From Survival to Thrival; Why We Need Each Other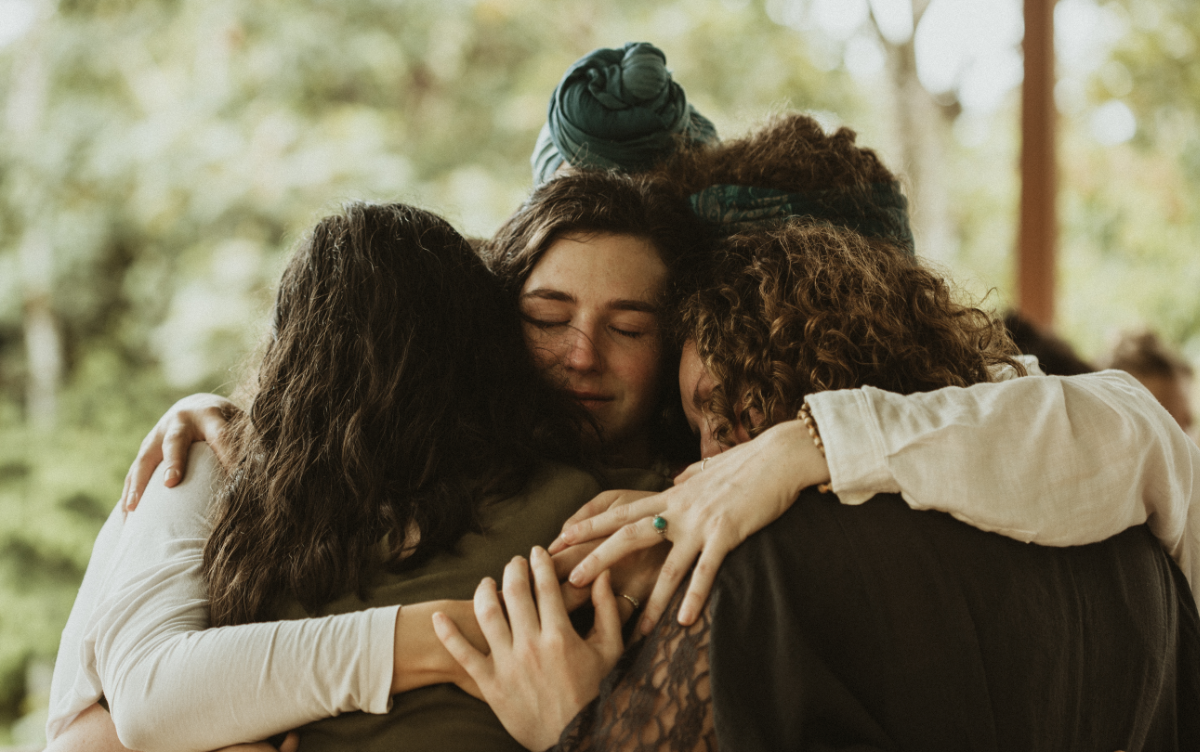 Usha Anandi. 6 | APRIL | 2020
I spent the first two weeks of March tucked away in the rice fields of Bali. From 7am to 9pm, I spent the day in a container with twenty-nine other women sharing, singing, growing, and transforming in the Wise Womban Way Professional Facilitator Training.
Towards the end of the training, I could feel the power building…
The impact each woman was going to have on the world was clear – each one unique in the way they transmuted the wisdom of their own inner-experience into potent teachings for the world.
Circle gives us the opportunity to remember what we've forgotten.
Above all else, I believe in the magic of women coming together to heal especially in times of criss and that's why we've been working our bums off to create the first ever Inner Circle virtual membership.
I could hear this voice inside of me saying…. "This is it! These are the ones the world has been waiting for."
I was so ready, eager actually, to unleash these women out into the world knowing fully the healing, beauty, and transformative space they would share with their communities.
Little did I know at the time, the world would need their healing more than ever…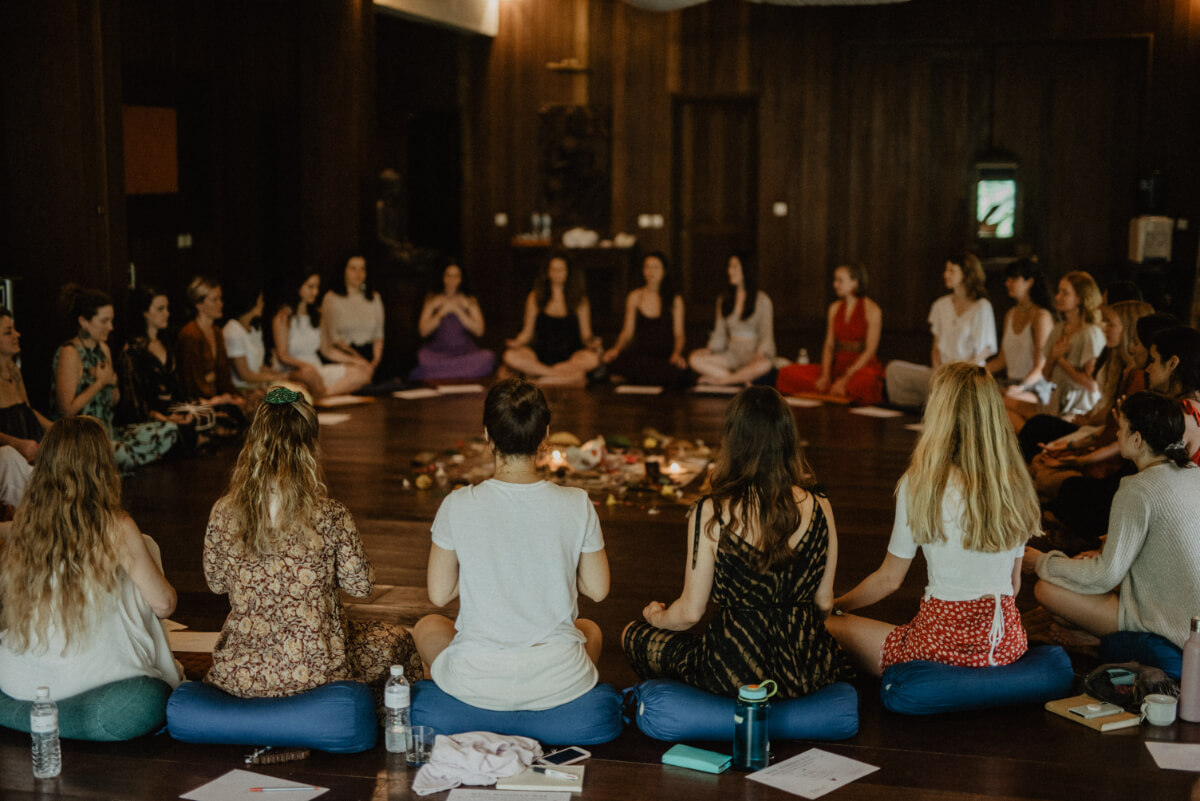 BAM!
I read the headlines.
All of a sudden, a threat that many of us thought was previously contained in China had started to seed itself all around the world.
I found myself in a hotel room with my partner, scrambling to pack our things as we attempted to make our way back to the United States to be with my family as we sat with the possibility of our flight being cancelled along the way.
Finally after two days of travel, we touched down in San Francisco. All of a sudden, the world that we had previously known as 'home' had vanished.
The headlines read: lockdown, shutdown, stay at home, social distancing, six-feet away, no touching, no coughing, no sneezing, no social closeness or intimate interaction. Just when I thought we were making serious headway in the womban revolution, this happens.
Right now more than ever, it's clear – we need each other.
And ironically, we need each other in a time where we're unable to actually feel, touch, or physically connect with one another… so, what to do?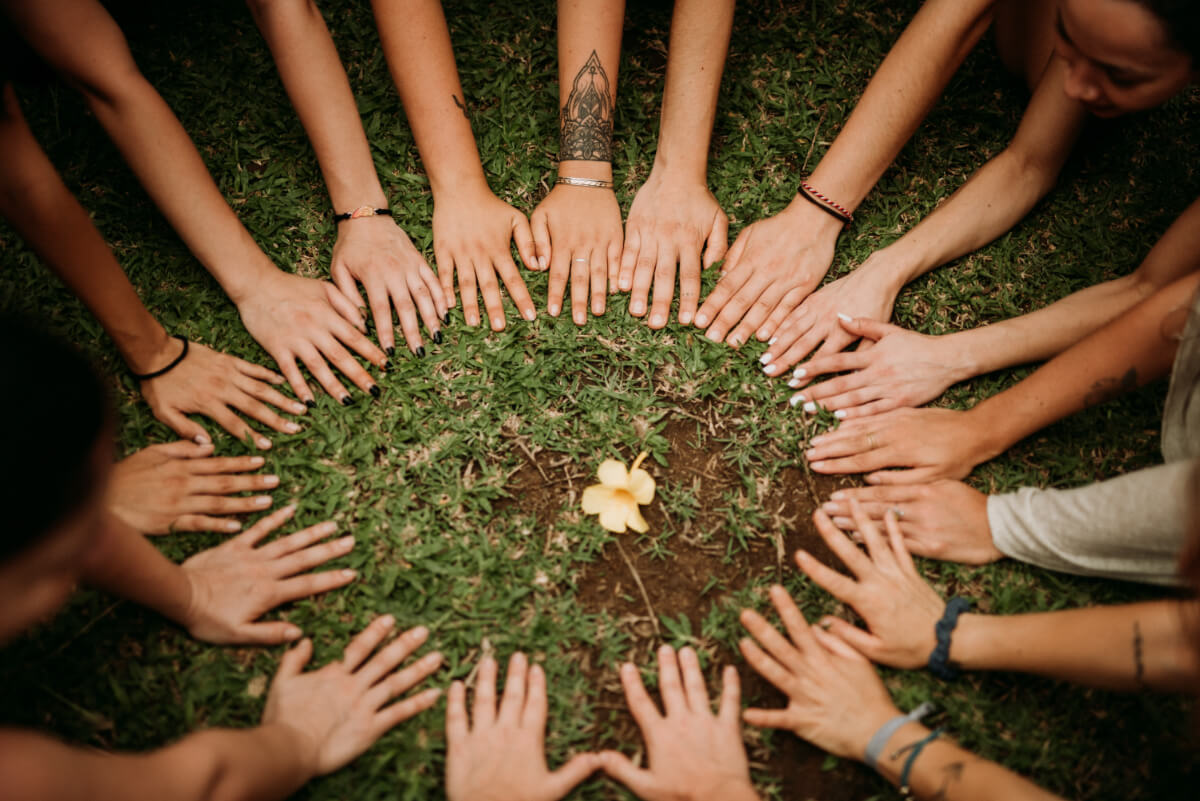 The animal of the body needs a sense of connection, closeness, and intimacy not only to survive, but to thrive.
When we feel connected to another person or a larger community, oxytocin is released. Known as the love and bonding hormone, oxytocin is released in large amounts during orgasm, birth, and child rearing to support healthy attachment between mother and child.
But that's not all.
Oxytocin is also released when we gather in community, when we speak and feel heard, when we sing in large groups, and when we consent to a long, comfortable hug.
Not only does oxytocin make us feel softer, more open, and connected with the world around us – it's also one of the most natural ways to balance high levels of stress hormones like cortisol.
So could the behavior that we're being told to avoid actually be the remedy for the side effects and aftershock of this global crisis?
Absolutely.
Let me be clear, I'm not encouraging you to go out and force strangers to eye gaze with you and hug you (I experienced enough of that in Bali, haha).
I'm saying, we have to get crafty. We have to find new ways to connect, support, and uplift one another. New ways to share, new ways to be heard.
When I'm teaching I talk a lot about this idea of a revolution.
I believe that when women come together, magic happens. When we touch the truth of who we are, it's unforgettable. When we learn how to speak the language of our bodies again, we become fierce advocates and protectors of all that is sacred within us and outside of us.
Of course, we want the revolution to be easy – we want it to come in a prepackaged box that has an instruction manual to guide us.
But the truth is, real, tangible change is messy. Real revolution means we have to dismantle all the systems of belief and programming that exist within us – even the ones that are currently serving.
Real revolution, change, and transformation is messy and sometimes, hard to navigate.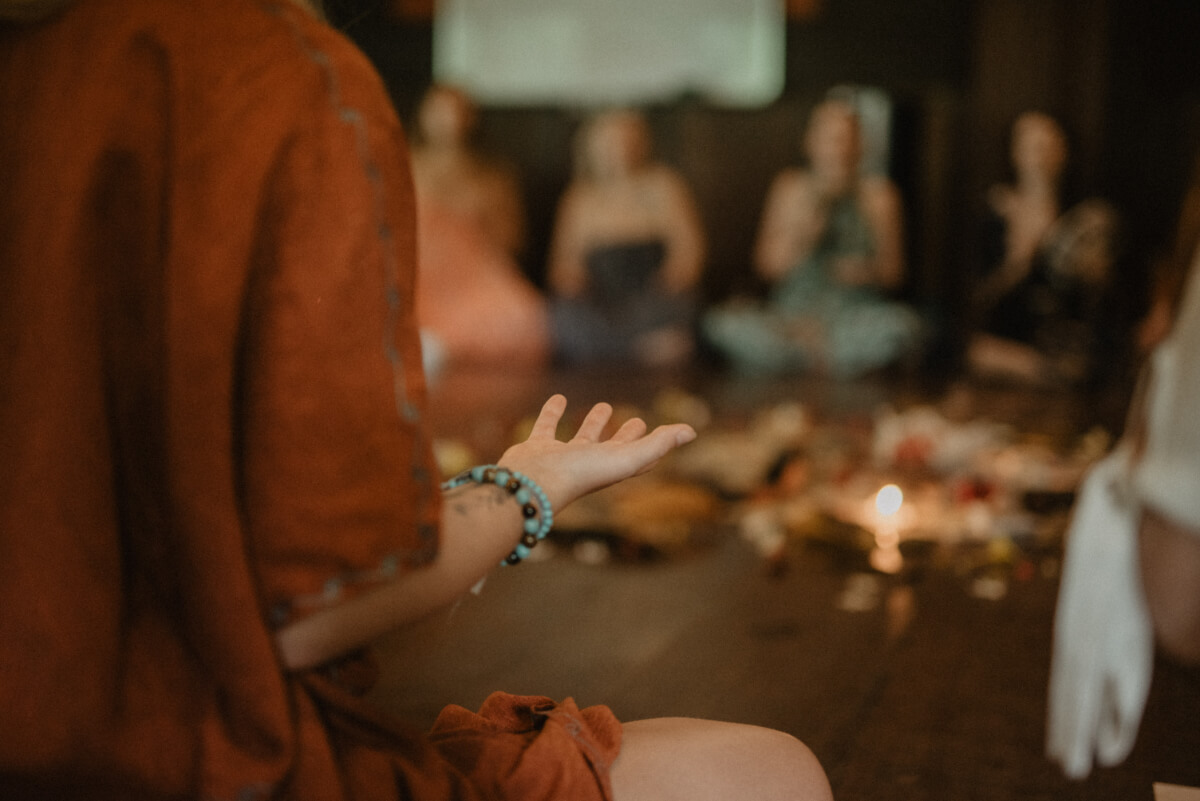 If we want to heal the world, we first have to heal ourselves – and we can't do it alone.
That's why we've spent the last month busting our bums to bring you our first ever virtual membership, Inner Circle.
Inner Circle is a sacred place where you can connect to a global community of like-minded wise ones who are able, willing, and fucking ready to hold space and hold you accountable to your intentions, commitments, and deepest desires.
A place where you can finally stop explaining yourself and take off your mask to just be your goofy, magical, unique self.
A place where you can gain exclusive access to live lectures and ceremonies I don't teach anywhere else.
We get emails and messages everyday from past students and clients asking for something like this. When you speak, we listen and thus, the Inner Circle was born.
If you've been craving community and sisterhood during this confusing time, this is our offering to you. If you've been wanting to dive deeper into your practice and feminine-based education, this is our response.
My heart goes out to you as we navigate this confusing, disorienting, and sometimes frightening time. At the very least, I'm grateful that we get to navigate it together.